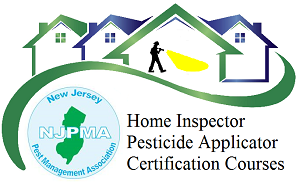 While anyone in New Jersey can do a pest inspection without a license, please remember that many lenders require a NPMA-33 form be submitted by a home inspector.  Only those Home Inspectors with a Commercial Pesticide Applicator Licenses are permitted to complete the NPMA-33 form.
In order to become a Certified Commercial Pesticide Applicator in the state of New Jersey, you will need to attend our NJ DEP accredited Basic Pesticide Training / CORE

and

Category 7B Termites & Other Wood Destroying Insects courses.  Afterward you will need to take the corresponding NJ DEP exams for each course and successfully pass.
If You Have Any Questions or Difficulties Registering for This of Any Other Class.
The purpose of this training is to provide the candidate applicator or operator with a working knowledge, at a minimum, of the following information.
The content of the Basic Pesticide Training Course is to include at a minimum:
Proper use of application equipment;

Hazards that may be involved in applying pesticides;
Instructions for mixing pesticides used in particular circumstances;
Protective clothing & safety equipment required during the handling & application of pesticides;
General precautions to be followed in the disposal of containers, as well as the cleaning and decontamination of equipment;
Applicable State/Federal pesticide laws & regulations;
Understand /correctly interpret label and labeling information;
Understand principles of Integrated Pest Management.
Category 7B Termite & Other Wood Destroying Insects
This is a two-day 12-hour class.  This class is designed to be used in lieu of 40 hrs of on-the-job training. Commercial applicator or operator candidates are required to complete 40 hours of on-the-job training, if available.
The content of the Category 7B Training Course is to include at a minimum:
State Pesticide Regulations
Pesticide Toxicity
Hazards of Pesticide Use
Subterranean Termites
Pest Management and Control
Pesticide Application Equipment and Techniques
Dry wood Termites, Formosan Termites
Once you have completed your Exam Prep Classes you will be able to schedule your NJDEP Exams with Rutgers Office on Continuing Education.
Want to learn more?   Need Continuing Education Credits?

 
You should attend our Bi-Annual Workshop!

 
Termite Resources
99A & 99B Forms
Certificates
Treatment Records
NPMA-33 Form
Click HERE to Shop Now!