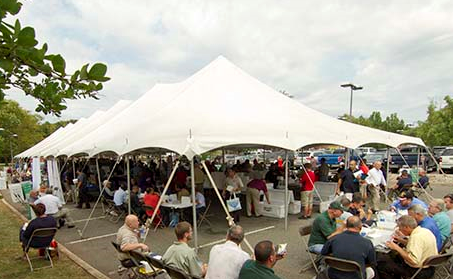 72nd Annual Clinic, Trade Show and Clambake
August 15, 2019 - Rutgers University
New Brunswick, New Jersey
The 72nd Annual Clinic, Trade Show and Clambake.
A Long Standing Tradition, The NJPMA Annual Clinic, Trade Show and Clambake returns to Rutgers Univeristy, New Brunswick, New Jersey.
Once again, the NJPMA Presents the Premiere Pesticide Industry Event of the year.  Appoximately 500 pesticide professionals will arrive for a day of clinics,  networking with colleagues, great food.  And of course visiting with our exhibitors who will be showing off the latest and greatest products available.  Beginning with our registration continental breakfast, exhibitors and attendees will have plenty of time together.  In addition, a mid-morinng  coffee break, lunch and an afternoon pick-me-up all provide our exhibitors with plenty of face time with prospective clients.
At the end of the day, everyone sits down to enjoy our traditional clambake.  At that time, exhibitor donated door prizes will be awarded to those lucky few!  Don't be left out of the fun, and recognition as a proud sponsor!
________________________________________________________________________________________
PAYMENT POLICY - All attendees must have pre-arranged for payment before being admitted to the event.
CANCELLATION & SUBSTITUTION POLICY - Registrants may cancel or substitute their reservation in writing up to 5 working days before the event and receive a full refund.
ACCOMMODATIONS FOR INDIVIDUALS WITH DISABILITIIES - If you require special assistance, please notify our office when you register or no less than one week before the event.  Every effort will be made to accommodate reasonable requests.
CONTACT INFO: Ken Healy - Associate Director - NJPMA ken@njpma.com or 973-994-2331.
----------------------------------------------------------------------------------------------------------------------------------------------------
Terms and Conditions:
Primary Registration includes: One 3'x6' Table (incl. electricity - Must Be requested in Advance) Free Parking, Morning and Afternoon Coffee Breaks, Lunch and The Clambake for 1 Representative. Additional Representative Passes and Tables may also be purchased at an additional cost.
An exhibition area will be available for exhibitors to set-up display tables beginning at 630am.  The exhibition area will be open during registration, coffee breaks, and lunch.  Dismantling of the displays will occur by 3:15pm.  Exhibitors must bring their own electrical cords and surge protectors.  Rutgers will provide standard electrical outlets only.
III. All booths must be completely set-up by 745 am, and removed by 315 pm.
By clicking Register Now!, you Agree to All Terms and Conditions as laid out above by the NJPMA.
The NJPMA would like to thank its Allied Members - Make sure you log-in before you register to receive your NJPMA Member Discount!



EXTRA! EXTRA!  READ ALL ABOUT IT!
As part of our return to Rutgers University, we will be publishing a special Clambake Edition of our quarterly newsletter, The Pest-O-Gram.  Every attendee will receive a copy at morning registration.  The is a terrific promotional vehicle to drive traffic to your booth.   You can highlight trade show specials or new products.  Maybe you are new to our event, introduce your company, yourself or your sales reps to our attendees!  Tell everyone your news!  Click HERE for complete details.
Planning on spending the night in the New Brunswick area?